Ginori 1735 • IL SEGUACE
Scented candle
Porcelain. 'Amber Lagoon' scented wax. Collection 'La Compagnia di Caterina', designed by Luca Nichetto.
The amazon, the scholar, the companion, the favourite, the friar, the lady. These are the characters in the entourage of Caterina De Medici who bring to life the first home fragrance collection by Ginori 1735.
The La Compagnia Di Caterina characters were born thanks to the contemporary vision of designer Luca Nichetto. Offering the perfect blend evoking the Renaissance atmosphere and the figurative heritage of the Ginori 1735 tradition, they stand out thanks to the study, research and development of forms from a single design, striking a harmonious balance between memory and innovation, characterised by the ultimate in craftsmanship.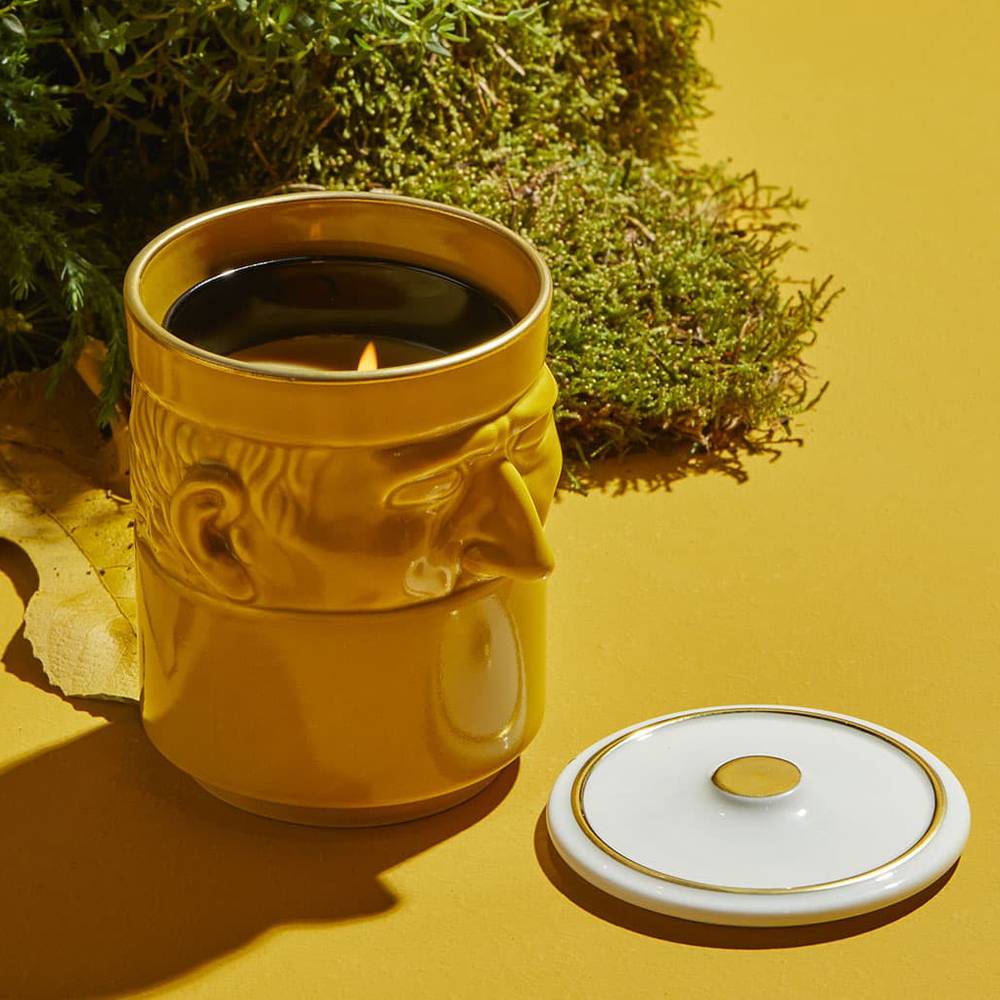 To create this collection, Luca Nichetto took inspiration from Lucha Libre masks, from the illustrations of Jean-Paul Goude and from graffiti art.
In the designer's creative vision, the statuesque faces of the characters become the archetypal protagonists of the collection, mainly composed of candles available in various sizes and colours, complemented by incense burners and stick diffusers.
Thanks to the design which blends the classicism of the ancestral statues with rigorous lines, the faces and sculptures take on a mysterious, iconic dimension. This artistic alchemy of graphic symbols creates a fusion of the scents and colours which evoke the ingredients used to create the fragrances.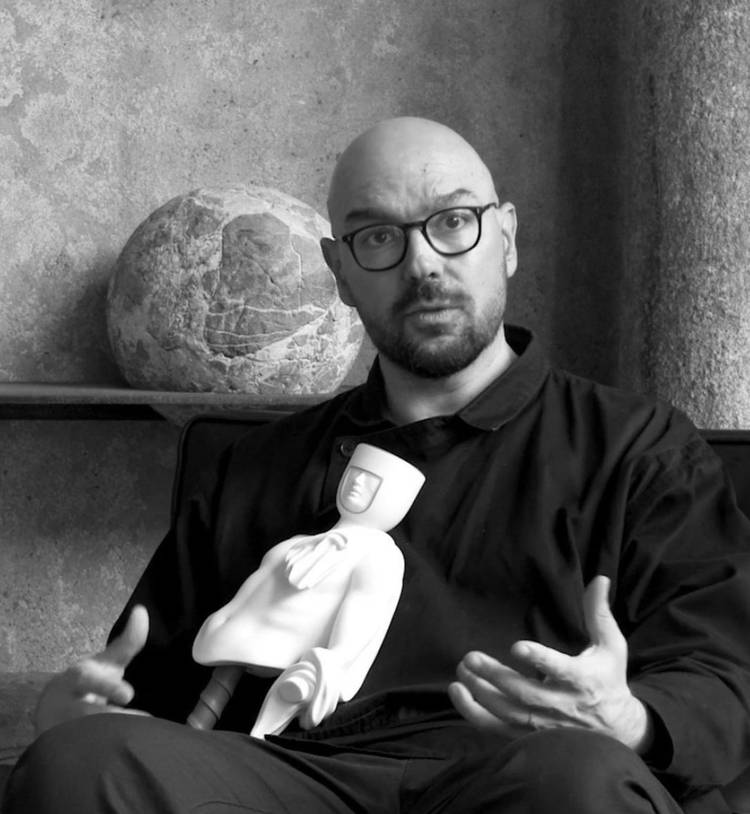 La Compagnia Di Caterina fragrances have been developed by Jean Niel, the oldest perfume house in France founded in 1779 in Grasse.
Amber Lagoon. The scent of a walk in lost time. The citrus blossom of grapefruit combines with the sweetness of fig leaves, amid gardens and fountains where the purity of fantasy dwells. A gentle breeze caresses the reflections of a palace mirrored in the Venetian lagoon, while notes of lavender, musk and vetiver lead to an idyll of happiness. It is the precise moment of infinite possibilities before us.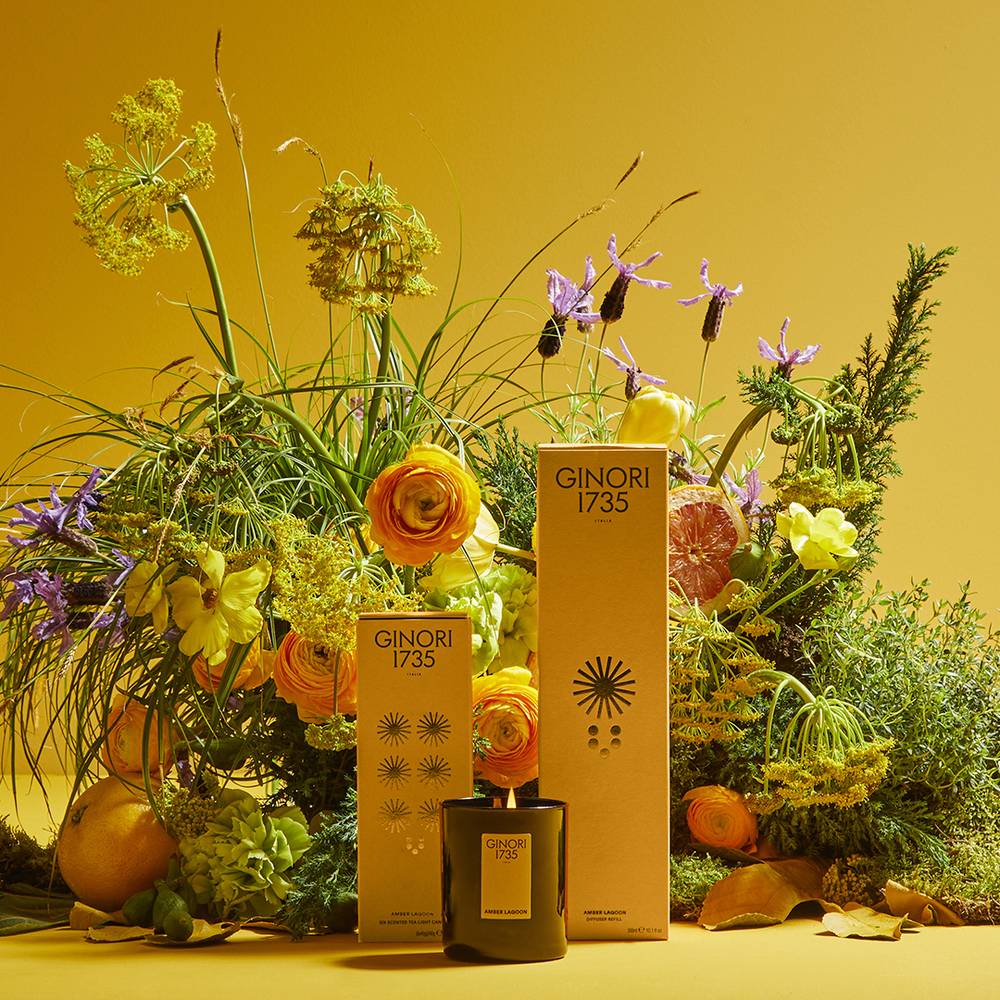 For almost three hundred years, Ginori 1735 has been positioned as one of the world's leading brands in the luxury goods sector, associated with big names in fashion, art, design, architecture, cinema and home furnishings, an expression of Italian excellence in pure porcelain and in design of the highest quality.
Overtime, the manufacture developed its own production processes, bringing together age-old techniques with an ever-contemporary aesthetic, to create products which are the fruit of leading visionaries, bringing art into daily life and daily life into art.