Glazed ceramics. Designed by Norm Architects. Audo Copenhagen edition.
Made with the perfect brew in mind, this brewing pot serves up hot or cold tea or coffee thanks to its innovative double filter immersion design that steeps leaves and grinds in water to release their natural flavours.
The sleek and speckled stoneware design holds a double filter made from a layer of stainless steel etching filter and a layer of stainless steel mesh filter, allowing for the perfect filtering of both tea leaves and coffee grind.
Sitting comfortably in the hand and with an angled spout for easy pouring, the simple look of Yana means it blends effortlessly with existing kitchenware designs.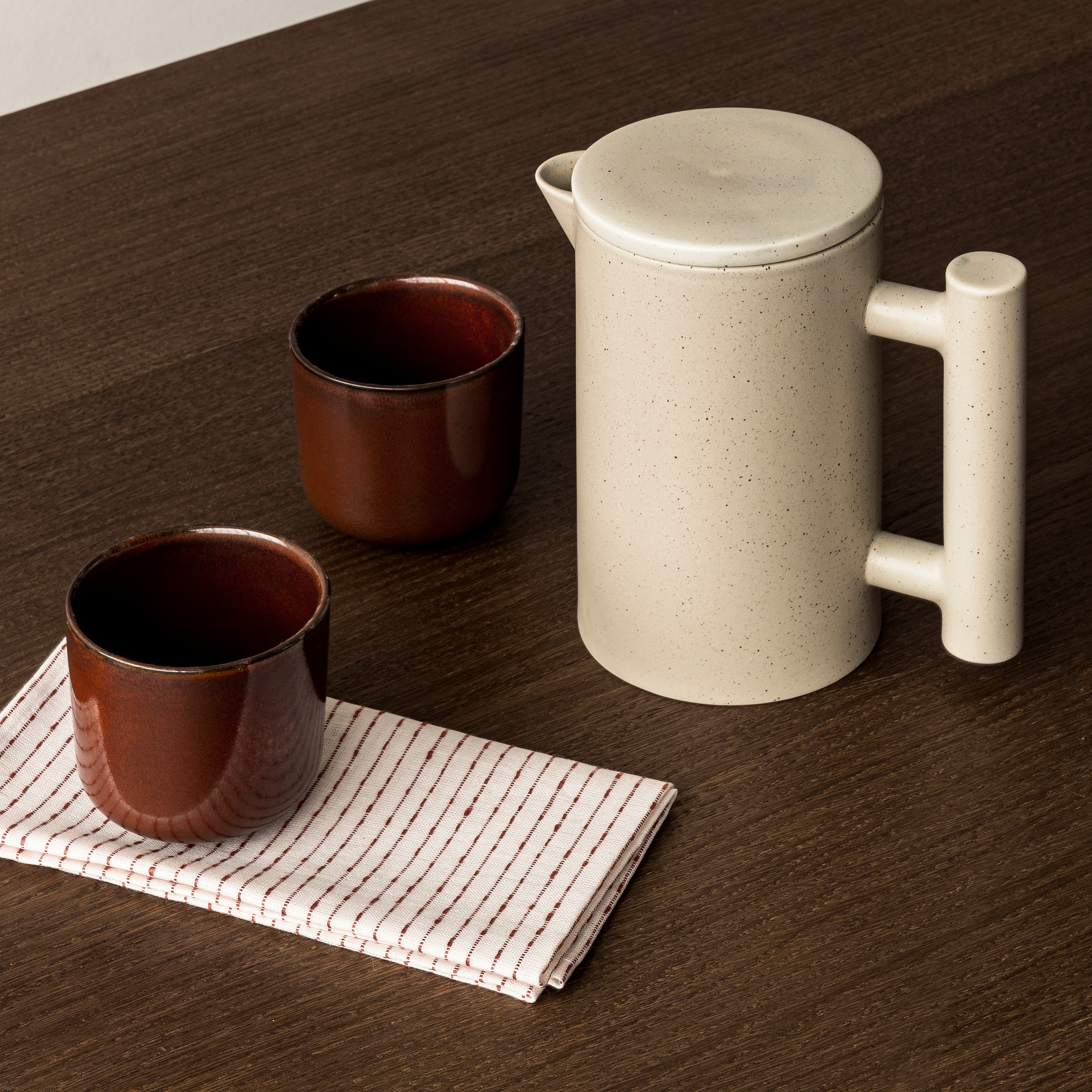 Founded in Copenhagen in 2008 by Jonas Bjerre-Poulsen and Kasper Rønn, Norm Architects specialise in residential architecture, commercial interiors, industrial design, photography and art direction.
The name, Norm Architects, reflects the group's emphasis on the importance of drawing inspiration from norms and traditions within architecture and design – particularly the Scandinavian design principles of timeless aesthetics and natural materials, and the modernist values of restraint and refinement.
Guided by these principles, Norm Architects produce a design that unites materials and craftsmanship, while embodying beauty, history and, most importantly, timeless simplicity, where there is nothing more to add or take away.
Today, the group regularly collaborates with Audo, helping to drive the evolution of the brand and its product offerings. Lead by the body and mind rather than by trends or technology, their projects explore ideas that not only look good but that also feel good: architecture becomes thoughtful, minimalism acquires softness and visual matter assumes haptic qualities.
Audo Copenhagen is born of collaborative spirit. Developed from uniting MENU, The Audo and by Lassen, Audo Copenhagen reflects both a century of Danish design tradition and a modern, global outlook that is continually expanding and evolving. The furniture, lighting and interior accessories are shaped by purposeful details, high-quality materials and human needs.
Audo Copenhagen's aesthetic philosophy has been coined soft minimalism, characterised by clean lines, calm, subtle strength, earth tones and nature's materials crafted with utmost respect. Soft minimalism promotes creative contemplation and harmony. It adapts to diverse architectural styles and is appropriate for both residential and commercial use, and it's timeless meaning Audo pieces can be used for decades to come and move to new homes and into new, creative chapters of life.