Salvatori • THE VILLAGE
Sculpture H.26cm
Model Lighthouse. Marble Grigio Versilia. Designed by Piero Lissoni. Salvatori edition. Made in Italy.
A diminutive piece designed to house a small candle, transforming it into a lighthouse. Effortlessly elegant, it is also a symbolic object that reminds us to always seek light even in the darkest moments.
Architecturally, it is tall and slender, crowned by a pitched roof containing a pair of circular windows.
This small but perfectly formed piece of architecture embodies the principles of an ideal small town in a way that could be considered metaphysical. Its very shape brings out the extraordinary characteristics of the stone it is made from, creating a piece of art that is centred around the material itself.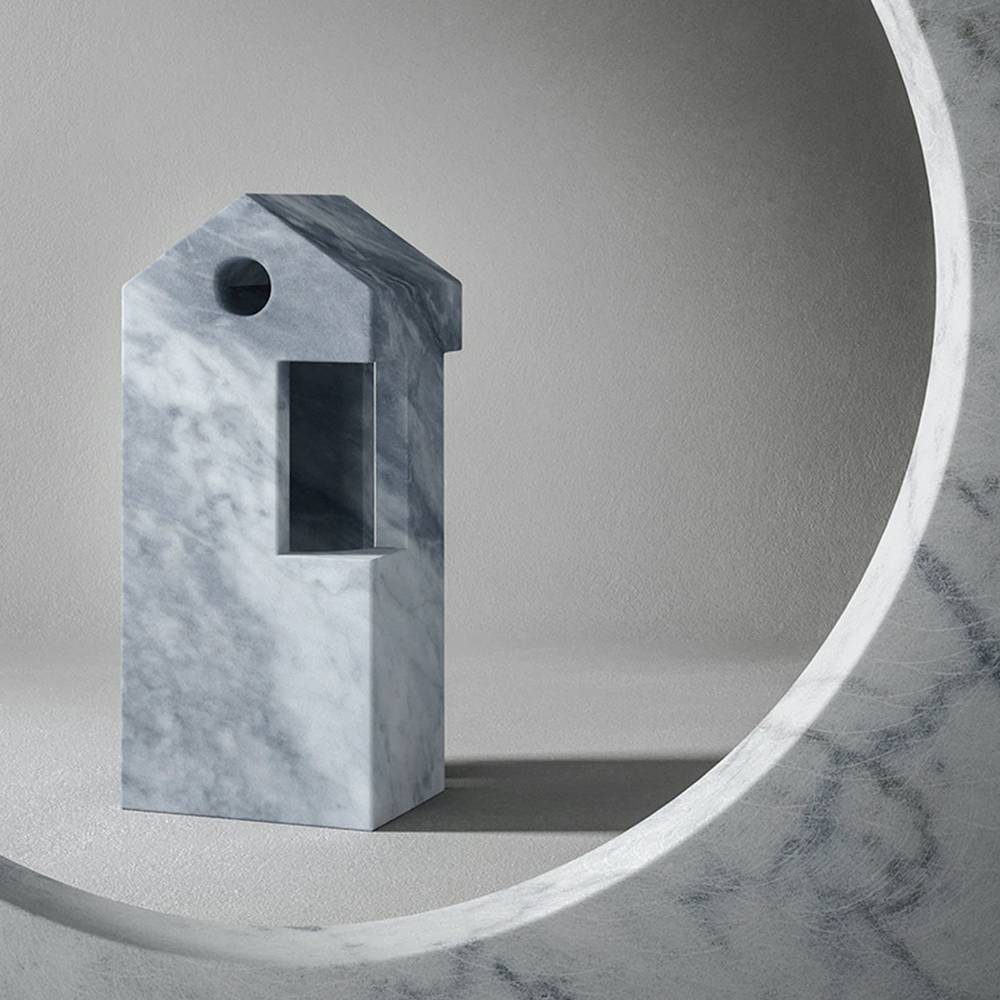 The Village explores the concept of home within the context of today's global society and reinterpret it through the medium of design, whilst addressing fundamental themes of contemporary living.
To recreate the rich and diverse structure of a typical village, a select group of designers from around the world was invited to share their idea of home, each bringing their own inimitable combination of outlooking, culture and background. The result is a fascinating and wonderfully eclectic collection of miniature houses, that, like the global village we inhabit, reflect an extraordinary array of styles and approaches.
What links them, however, is the use of natural stone, that enduring and beloved material that has been used since time memorial to construct buildings, art and monuments that provide refuge and inspiration for mankind.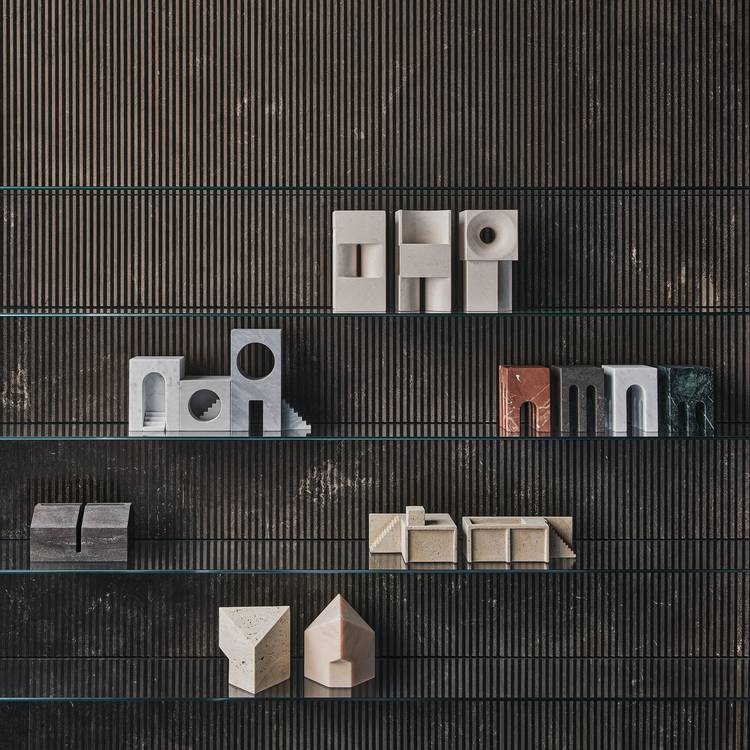 With offices in Milan and New York, Lissoni & Partners has a thirty-year history in developing international projects in the fields of architecture, landscape, interior, product and graphic design, in addition to being responsible for the art direction for some of the most influential design companies.
Led by Piero Lissoni, the practice combines a range of expertise with an holistic and tailored approach that sets it apart, establishing a stylistic code and a visual identity that are clearly and instantly recognizable.
His work is inspired by a sense of rigor and simplicity and is characterized by a regard to detail, coherence and elegance with particular attention to proportion and harmony.
Recognized as one of the masters of contemporary design, he has worked with many international design brands, and has received a series of international awards, including the Good Design Award, the Red Dot Award and the Compasso d'Oro ADI.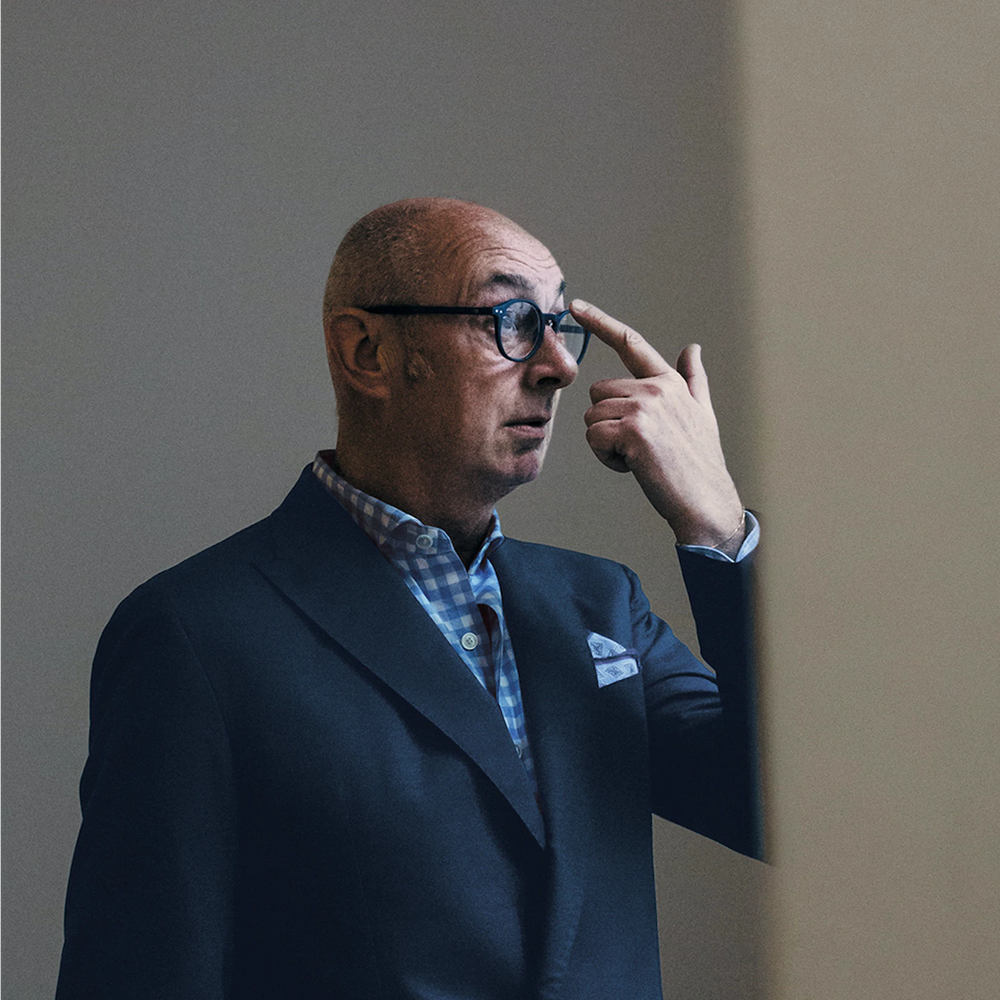 Salvatori is an award-winning Italian design company specialising in natural stone, drawing on the very best of Made in Italy values and cutting-edge engineering and technological know-how, fusing old-fashioned craftsmanship with contemporary design.
Since 1946, Salvatori has worked closely with architects, designers and builders to provide not only practical support, but also inspiring new ways to work with stone which often challenge traditional thinking.
Whilst many of their products are the result of partnerships with internationally noted designers, what lies at the heart of all they do is a deep-rooted passion and respect for the inherent beauty of natural stone, and its defining characteristic: that no two pieces can ever be identical, meaning that every single product has its own unique history.
Salvatori' head office is in Northern Tuscany, four kilometres from the coast and less than 30 minutes from the imposing quarries which are home to the famed Carrara marble. Every product is produced locally.
Innovation is entrenched in the DNA of the company. As early as in 1950 ,founder Guido Salvatori invented the Spaccatello finish, and the next generations continued this innovative story. Almost every machine used to create the exclusive textures for which they are known was invented by the now CEO Gabriele Salvatori and his father Alfredo.