Stelton • EM77
Vacuum jug
ABS plastic, glass filler. Designed by Erik Magnussen. Stelton edition.
Made in Denmark since 1977.
The EM77 vacuum jug with the unique rocker stopper was created by the Danish designer Erik Magnussen and is produced in Denmark since 1977.
Today the vacuum jug is a design icon around the world.
The jug holds 1L and can be used for coffee and tea. The insulating glass insert keeps the liquid hot for hours - or cold, if the jug is used for e.g. ice tea. Besides the rocker stopper it has a screw cap for picnics and transportation of liquids.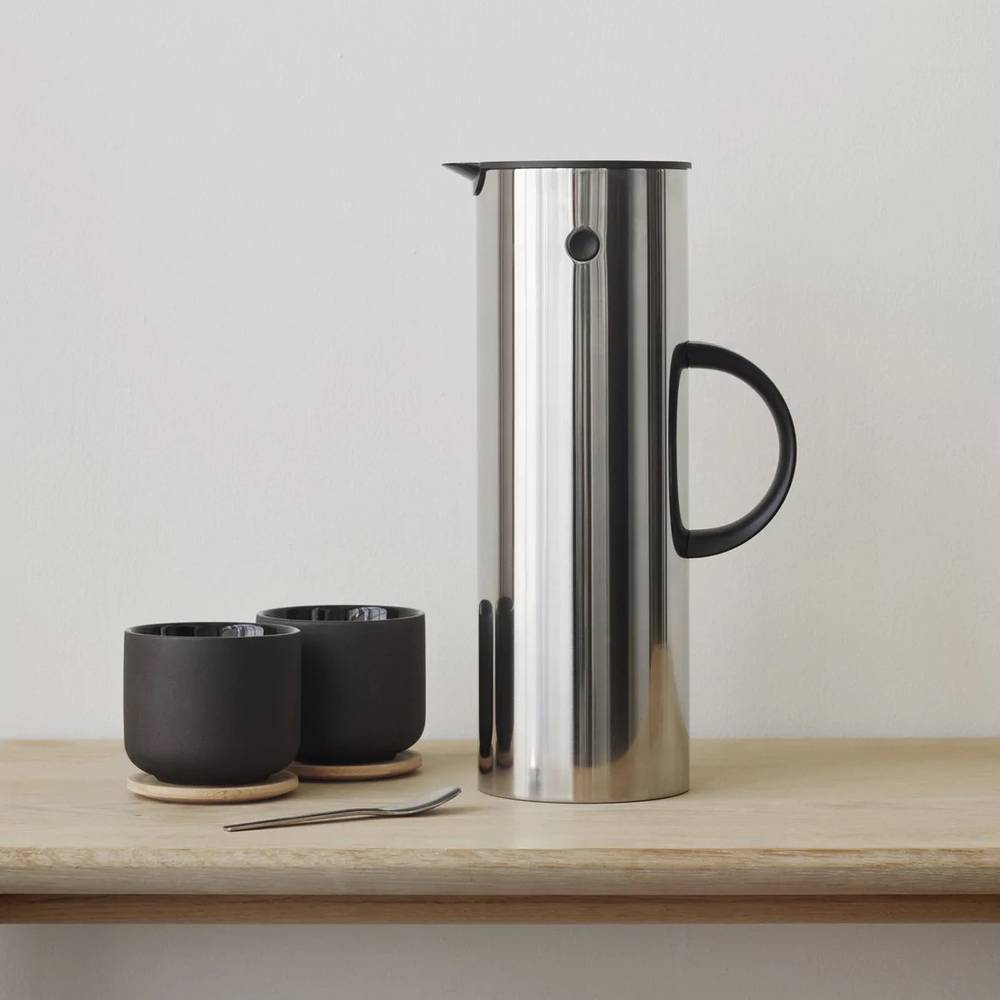 Erik Magnussen was born in 1940 in Copenhagen. Educated as a ceramist at the School of Applied Arts and Design - graduated with a silver medal in 1960.
For a number of years he worked for Bing & Grøndahl and among the latest works are furniture for Fritz Hansen A/S, tabletop in pewter for Royal Selangor, tabletop in stainless steel and plastic for Stelton A/S, porcelain lamps for Licht & Form and furniture for Paustian a/s.
Erik Magnussen's designs are exhibited in museums throughout the world and he has received the Lunning Prize in 1967 and the Furniture Prize in 1977. In 1983 he was chosen "designer of the year" by the Danish Design Council and his products have several times received the ID-prize by the Danish Society of Industrial Design.
"I want people to look at my designs thinking: of course!" - Erik Magnussen
Stelton is an innovative Danish design house, founded in 1960. Its ambition is to create timeless and functional design, which makes everyday life more beautiful. Design, which is sustainable because it stands the test of time aesthetically and quality-wise, so it can be cherished for years and passed on to future generations.
Stelton's design families and many product lines are the result of fruitful collaborations with international designers and architects. Collaborations which have often been awarded with design prizes like Red Dot, German Design Award and the ID Prize.
Iconic designs like Erik Magnussen's EM77 vacuum jug are the basis of Stelton's DNA, and the durable, functional products are present in homes and offices all over the world.