With its elegant proportions and mirror-polished surface, this stainless steel vase is a beautiful example of minimalist Scandinavian design.
Understated enough to allow the flowers within to really take centre stage, the vase nevertheless has a sculptural quality that means it has a strong presence even when empty.
One of Georg Jensen's most notable collaborators, Henning Koppel's name is synonymous with Scandinavian design. His love of organic natural shapes, quality craftsmanship, and functionality make his work truly timeless and indeed, he continues to influence and inspire designers to this day.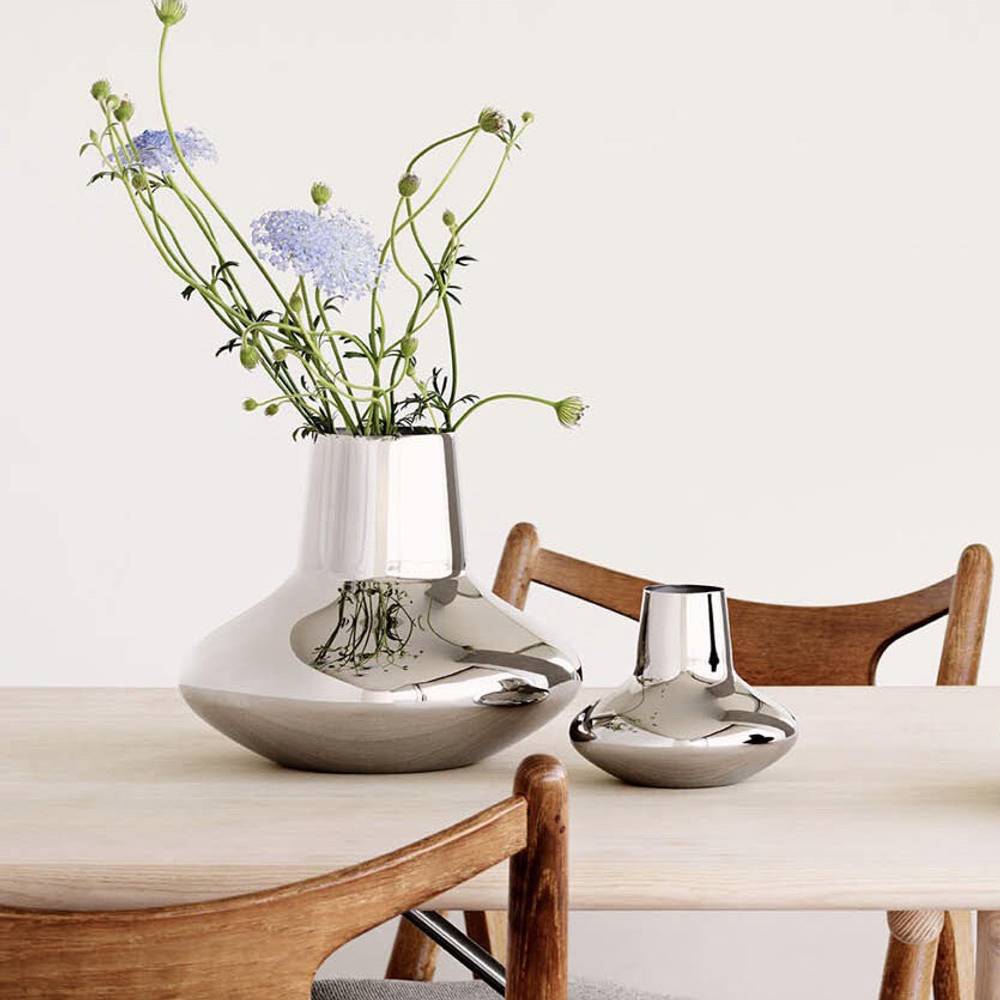 Henning Koppel is responsible for what we have come to think of as Danish design.
Koppel showed an early talent for art, leading him to train in both drawing and aquarelle early on. He continued studies in sculpture at the Royal Danish Academy and later in Paris.
Like many Danish Jews, Koppel fled to Sweden during the Second World War. At 27, he returned and began working at Georg Jensen, which marked his start in jewellery, hollowware and flatware design. From the beginning, his silverwork was abstract and sculptural and unlike anything that went before.
Henning Koppel's designs broke new ground for Georg Jensen with expansive and beautiful shapes. Koppel's designs tempers the strict rules of functionalism with organic, lifelike shapes. His mission was to make everyday life products beautiful as well as practical.
When Henning Koppel died in 1981, aged 63, he had created an astonishing range of work: from stainless steel cutlery such as New York which found its way into the homes of millions, to magnificent one-off signature pieces such as the silver and crystal chandelier he designed to celebrate the 75-year anniversary of Georg Jensen in 1979.
During his life, he won many awards including the Milan Triennial, the International Design Award and the Lunning Prize.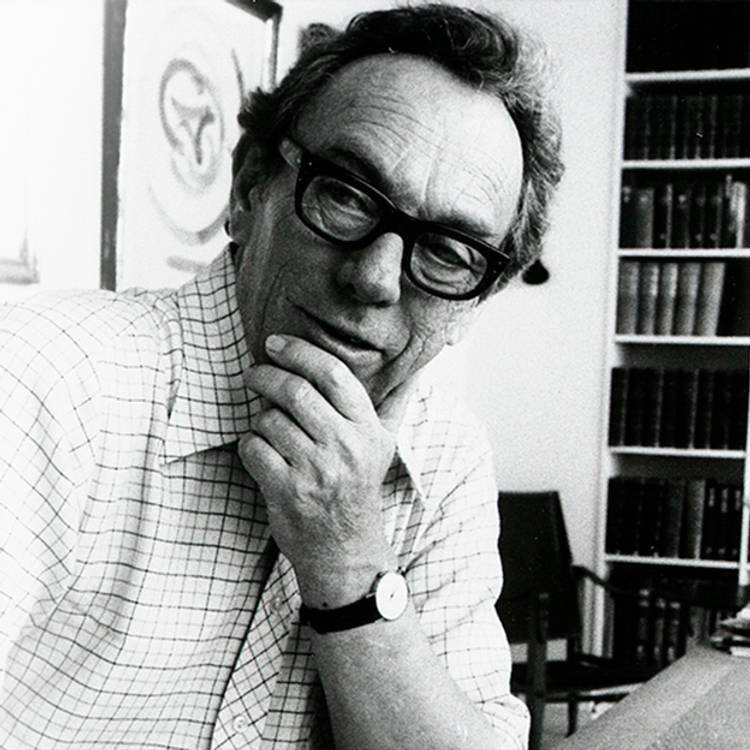 With a history that spans more than 100 years, the Georg Jensen brand represents quality craftsmanship and timeless aesthetic design, producing lifestyle products ranging from flatware to watches, jewellery and home products.
The philosophy of Georg Jensen himself was to create democratic designs possessing both functionality and beauty. His artisanal skill and artistic talent combined with his continuous ability to identify and support design talent was the foundation on which he built Georg Jensen in Copenhagen in 1904.
Georg Jensen's style embraced the Art Nouveau lines of the day but injected them with a distinctive vigour that continues to resonate today. The brand's most important task is to leverage the ideas and principles of the master himself and translate these into the design of the present day.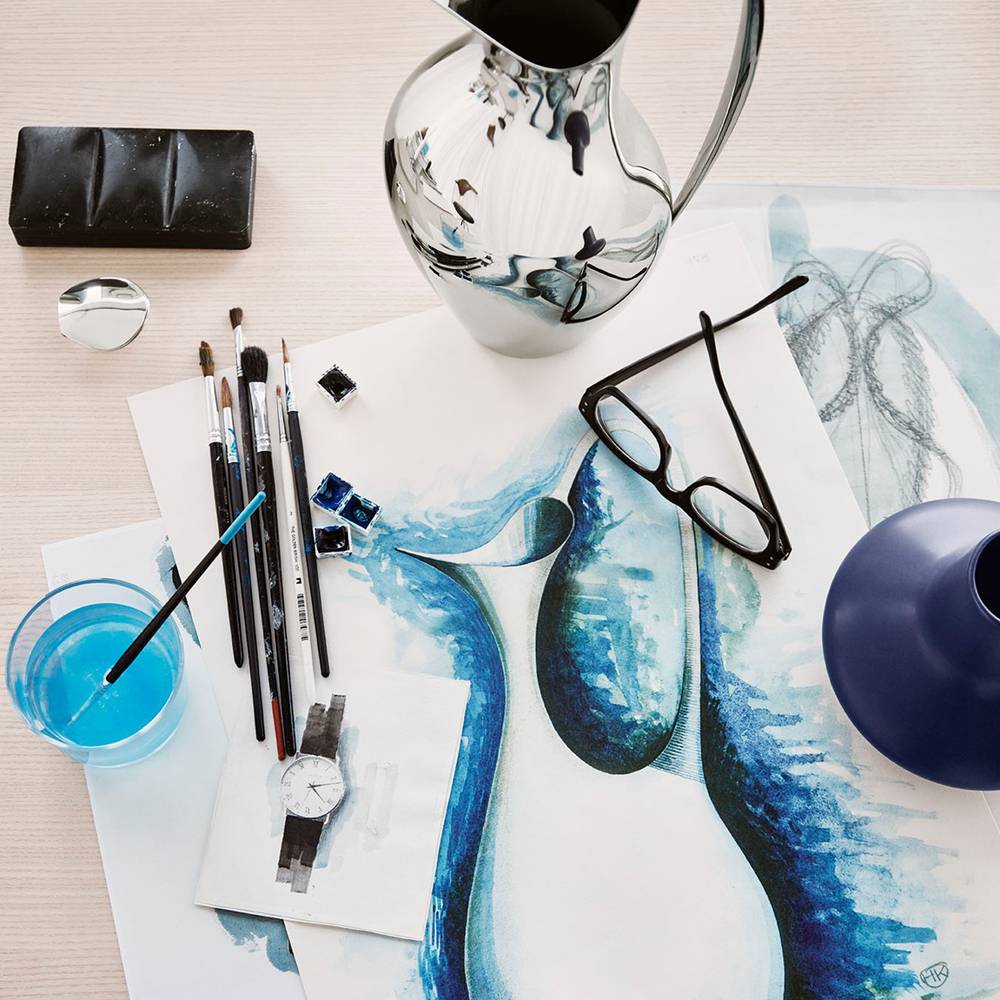 When the 37-year-old Georg Jensen, with both an apprenticeship as goldsmith and sculptor behind him, made silver his way of living by establishing his silver smithy in Copenhagen in 1904, it was with the fine craftsman's understanding and appreciation of the material combined with the accomplished artist's sense of form.
Through his childhood in the picturesque surroundings of Raadvad north of Copenhagen Georg Jensen was inspired to become an artist. He succeeded in becoming both sculptor and ceramist but it was by way of his talent as a silver smith that he achieved the most remarkable recognition. The Georg Jensen Silversmithy created some of the most original and epoch-defining jewellery, hollowware and cutlery patterns.
At Georg Jensen's death in 1935 the smithy was acknowledged as one of the most important silversmithies in the world. Georg Jensen was instrumental in defining the character of the twentieth century Scandinavian Design by drawing on Danish traditions and infusing them with a progressive design rationale. He rejected the popular taste of the time for romantic and historicist ornamentation and ostentation, instead embracing the avant-garde Art Nouveau style with its simple organic forms and craft-based approach to production.